Mark Bush visited Abbey Road in May 2003. I had to feel the essence of Abbey Road and all of it's splendor! he says. During Operation Iraqi freedom I served as a flight medic in Kuwait. My team was sent to England for a few days before being sent back to work. A few of us went to London and, being an avid Beatles fan and musician I insisted that we go to Abbey Road Studios. This is a result of that visit. Glad you found time to make the pilgrimage Mark!
And now we have a note from Mike Troiano: My name is Mike Troiano and my wifes name is Jean Troiano. I used to live in England while stationed at RAF Mildenhall. I wanted my wife to see London, so on our 25th anniversary we finally took a visit. This was last July during the 99 plus degree heatwave!
We loved it so much continues Mike, that we are coming back next summer, this time we are taking my 22 year old son Richard who wants to walk upon that famous zebra crossing too! This and the picture below are of Mikes wife Jean.
Peace, Mike Troiano, Folsom, California USA
Thanks Mike. We look forward to seeing you when you come back with your son!
This is Christy Young standing at the famous road sign on October 10th 2003. She is holding a photo of her sister Dot who sadly never managed to make the journey to Abbey Road before her premature death back in 1970. I am sure she was there in spirit with you Christy!
Here are Christy and her husband Crossing Over - again with that very special photo in her hand.
Here is a picture of 10 year old Natalie Galloway from Kirkcaldy, Fife, in Scotland who got to record at the famous Abbey Road Studios on 9th November 2003 after winning a singing competition. Lucky girl! Whilst she was there she got to meet new hit band Phixx! What a day! Well done Natalie and good luck with your record release!
...and here is Natalie after a hard days night! Who said being a pop star was easy?
Jose Araken from Brazil visited Abbey Road on 9th October 2003
Jose at THE sign
The Studio steps. I wonder how many times Beatles feet have walked up and down these?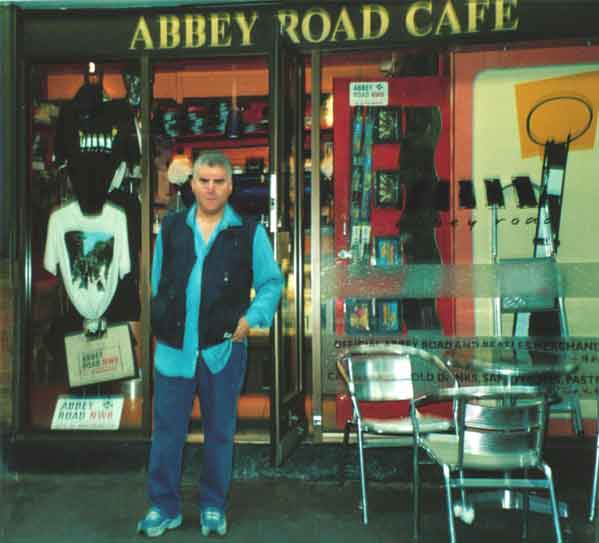 And now the important part of the day! Coffee time!
David Sanchez from Madrid in Spain crossed over in 2001
Here is David in front of the Studios
J Dumas writes: Hello, this picture was taken last November 8th before the Eric Woolfson´s Poe show at Abbey Road Studios. We are Spanish, from Cadiz, Andalucía, (left to right: Pepe, Alberto, Jóse, Jero) and we crossed 4 times to get the best shot with the help of two Italian girls who were there.
This is Willie from New York City who Crossed Over on September 20th 2003. Willie writes: ....walking across this road was one of the main motivations to travel to london and it was definately worth it!!! my wife patiently waited with me for over 20 min for the walkway to be clear of cars and other pedestrians before i could take my picture. It was well worth the wait Willie! Thanks for sending the picture.