This is Doug Necci from Novi in Michigan, USA, Crossing Over on November 10, 2003
....followed by good friend Adam Pew from Wyandotte, also in Michigan, USA
Frank Axiak walked the famous road on 25th February, 2003
...and then just like The Beatles second time around
This is Martin, Morten and Erik from Denmark in July 2003
Tom&aacutes Javier P&eacuterez Rosado writes HELLO...We are Inés, my daughter, and me, Tomás. We came from Madrid, Spain, and we crossed Abbey Road on Monday 8th December, 2003. Mom, María Jos&eacute, took the pictures.....
.........We promise we will cross it again WHEN WE ARE SIXTY FOUR............AND GOODBYE
Here is Andrea Casula from Italy who came to London just for the pleasure of Crossing Over. Nice one Andrea! A true Beatles fan!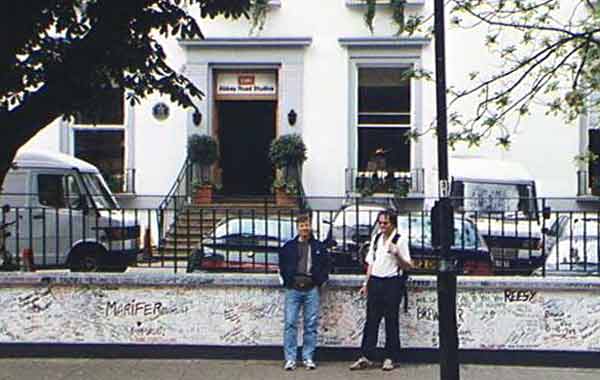 And now Frostein Nygard explains the following collection: Here are some pictures from a trip some years ago. It was in the middle of May 1999. We are 3 friends from Norway, who were spending a short holiday in London. For me, England has always been The Number One Country for Pop and Rock & Roll. (I still watch Top Of The Pops from the BBC!) It was a MUST to visit the Abbey Road area, and we were not disappointed!! Comments about the pics: Johnny is in the dark blue jacket, Torbjorn in blue jeans jacket, and myself, Froystein in the white t-shirt. To start with here (above) is my friend Johnny (left side) and me in front of the studio.....
....My other friend, Torbjorn, crossing over...
....Torbjorn again....
........Johnny crossing over, Torbjorn is watching from the right side....
......Torbjorn (right side) and me in front of the Studios....
.....and finally, Johnny and me.

Thanks Froystein.